When baking gluten, dairy, and soy free cookies, it's easy to find alternative ingredients.  You can sub in almond or coconut flour, almond milk and butters, agave, dairy free chocolate etc.  One thing that can be hard to find a healthy alternative to are sprinkles.
That's where Go Supernatural Sprinkles come in handy!  These sprinkles are an allergy friendly, clean baking substitute.  Their food colors are plant based, have no GMOs, and are soy, vegan, gluten, and palm oil free!  You can find Supernatural Sprinkles on Amazon and in Whole Foods.
When my friend Dee, @burpeesbeforebrunch, got gifted with these sprinkles we decided to give them a try.  We used Rachel Mansfield's chocolate chip ginger cookies for the base and made a paleo frosting.  This was a baking marathon! Check out all the recipes below and be on the lookout for another Supernatural recipe using their new Girl Pow! Sprinkles!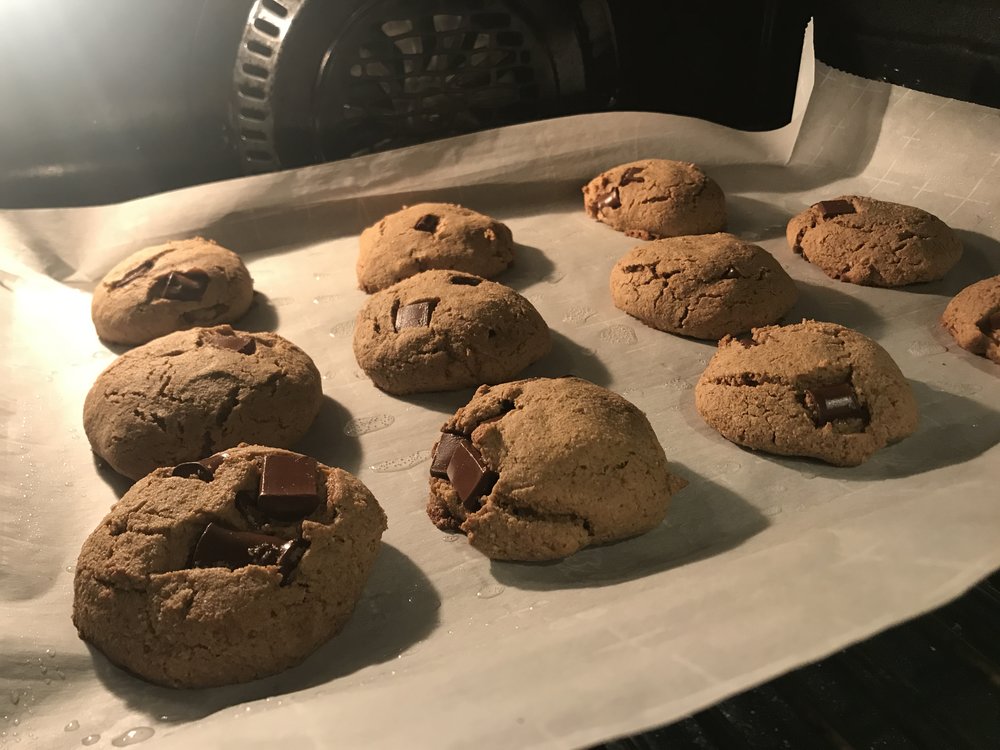 GINGER CHOCOLATE CHIP & FROSTED SPRINKLED COOKIES
Base: RM Ginger Chocolate Chip Cookies (Paleo)
What You'll Need:
– 1/2 cup creamy nut butter (I used almond butter)
– 1/4 cup liquid coconut oil
– 3/4 cup coconut sugar
– 1 large egg
– 1 tablespoon Vanilla Extract
– 1 and 1/4 cup almond flour
– 2 tablespoons coconut flour
– 1 teaspoon baking powder
– 1/2 teaspoon Allspice
– 2 teaspoons Ground Ginger
– 1/2 teaspoon Cinnamon
– 1/3 cup dark chocolate chunks or chips (I used Enjoy Life)
Steps:
– Preheat oven to 350 degrees and line a baking tray with parchment paper and grease well. ( I used coconut oil)
– In a medium bowl, whisk together nut butter, coconut oil, coconut sugar, egg and vanilla
– Once mixed well, add in almond flour, coconut flour, baking powder and spices and mix well again (I used my Vitamix for this!)
– Fold in chocolate chips then scoop the dough and form into cookies and add to baking tray
– Bake in oven for 10-12 minutes or until cooked through
– Let the cookies cool off so now you can start making the frosting!
Add on: Paleo Chocolate Frosting (from Paleo Effect)
What You'll Need:
– ½ cup Coconut Oil
– ¼ cup agave
– 1 tsp Vanilla Extract
– ¾ cup Cacao Powder
– ¼ cup Coconut (or almond) Milk
– Pinch Coarse Sea Salt (optional)
Steps:
– Easy! Mix everything together except the sea salt in a blender until the ingredients are smooth and incorporated
– When the cookies are cooled, use a spoon to spread it over half of the cookie!
– Top it off with the Supernatural Sprinkles and you are good to go!
XX
Chef D.